Nengi Pregnancy rumors: Shippers of reality TV stars Ozo and Nengi have been speculating that the duo might be expecting a baby after a recent Nengi appeared as if she was pregnant.
In the photo, the ex-beauty queen was seen posing with famous comedians Mr Macaroni and Broda Shaggi.
Nengi's protruding stomach which seemed like an early baby bump in the photo caught the attention of many and this has raised suspicions that the reality star might be pregnant for her alleged lover, Ozo.
See the photo below ;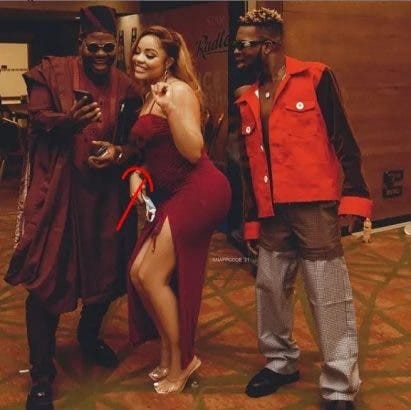 Here's how users reacted
@shapewearmaker ; Is she pregnant?
@bonsuserwaastella ; Nengi pregnant for ozo
@makanaki : Ozo will soon become a daddy ooooo!
@fur.niturewish : Ozo's baby on the way
@estherchibee : She preggie
@mivanni_ ; I thought she had a flat belly
@official_zaynab1 ; For someone that has done a surgery why did she have a belly tho ?
@itohannn_96; Seems she'll be needing another LIPO procedure
@bigbrothernaijareport ; What happen to her flat stomach? Despite her liposuction, Flat tummy in the freaking mud! Las las everyone get pot belly!!
@realpearluche; Another surgery loading! Look @ her stiff masculine body and her pot belly, low budget bob risky